BDS wins State FB
Details

Published on Wednesday, 29 November 2017 15:10
Written by thenebraskasigna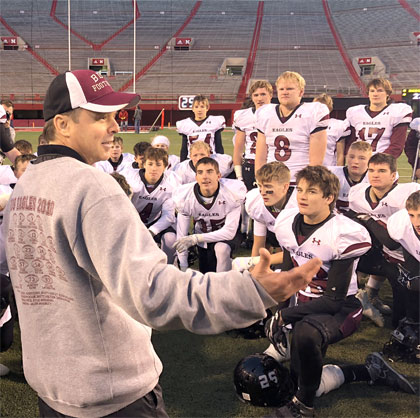 By GREG SCELLIN
Signal Editor
To no one's surprise, Bruning-Davenport/Shickley finished off one of the most dominating 8-man football seasons ever with a 58-23 demolition of Blue Hill. The 13-0 Eagles led the 12-1 Bobcats 36-16 at intermission in Lincoln and added two more scores in the third quarter and one more in the final period to claim the Class D-2 State Football Championship.
BDS, who was state-rated No. 1 all season long, scored at least 50 points in each of its six State Football Play-off wins. The Eagles starting defense never allowed more than two scores in any of these games. The squad that hoisted the trophy on Tom Osborne Field is comprised of at least six All-Staters and sports a senior crew that has a combined 48-3 (94-percent win) record in high school. BDS has won two State Championships and one State Runner-up trophy in those four years, as well.
"The kids made this a big, big game for themselves, and it showed," Eagle co-head coach Mark Rotter said. "I couldn't be prouder of these guys...They are just a great group of kids to coach."
About five minutes into the contest, which was played on Monday, November 20, at UNL's Memorial Stadium, BDS quarterback John Christensen busted through the line and rumbled 46 yards for the first of his four touchdowns on the day. Three minutes later, the junior signal caller dived in from six yards out. Two and a-half minutes later, Thomas Mick zipped in from 25 yards out. PATs from Mick, Christensen and Christensen to Garrett Schardt had the score 24-0 after one period.
"They were playing us so darn close, once we broke it, it was a race to the end zone," Rotter said. "I told our kids to be patient...they were either going to hold us or we were going to score."
On a busted coverage, Bobcat quarterback John Rouse hooked up with Maccoy Menke for a score. After the slight momentum break, Christensen cashed in from 64 and 28 yards out. Both runs saw the 215-pound quarterback shrug off initial tacklers and go the rest of the way untouched. Christensen rushed for 187 yards in the first half. Rouse would hook up with Lane Diesley right before halftime to trail 36-16 at the break.
"Their quarterback is a legit player," Eagle co-head coach Chris Ardissono said. "Our whole goal was to stop Rouse—he was the one who could make the plays. He was their playmaker. And, we stopped him. We were able to get to him. Plus our offensive play, took away any chance of momentum they could have. It's easy to play great defense when you also have a great offense."
Rouse came into the contest with 1,418 yards rushing and 25 TDs. He had also thrown for 858 yards and 14 TDs.
The Eagles started the third quarter where they had left off with Mick taking an inside hand-off and sprinting down the sideline for 52 yards and a score just a little over a minute into the second half.
"I told them how big it would be to score right away after the half and we did," Rotter said. "We stole the momentum right back from them."
The BDS defense would then hold Blue Hill on downs after a long, time-consuming drive. After an exchange of punts, Schardt skirted the west sideline for 58 yards and the score. The scoreboard flashed 50-16 after three periods and the end result was clear.
Mick would bolt in from 54 yards out to finish the Eagle scoring. The senior speedster rushed for 142 yards and three scores. He also logged 14 tackles on defense. He finished his senior season with just under 1,000 yards rushing and receiving.
"We went out and performed and did the things we needed to," Mick said. "We got back here after last year and came in with lots of seniors with experience, and we got it done."
Christensen finished the blow-out with 207 yards on just 16 carries. He also completed three passes for 26 yards.
"I thought they were more physical than (Falls City) Sacred Heart," Christensen said. "We really needed to play our best, and we did. I thought we might be faster than them...My line did a great job...I would just break one tackle and I was off. This group means the world to me. I will be back ready next year, too."
Schardt rushed for 63 yards in Lincoln. Grant Norder hauled in two passes for 28 yards. Karson Dickson logged thee quarterback sacks and nine solo tackles. Christensen was in on 15 tackles and Schardt and Holden Stengel both made 10 stops. Nolan Weber logged 7.5 tackles and Norder was in on six stops.
"The kids felt like they got cheated last year (referring to the Eagles' last-minute semi-final loss to FCSH)," Ardissono said. "They surprised us every play-off game. They just grabbed the lead and went from there. These kids have made football important to them. We've also had great leaders. They come in each year and keep it going. They have made it important to become better athletes."
Rotter is also impressed with the four-year run, which includes two State Championships; a State Runner-up and a 48-3 overall record. Seniors on this year's squad also included Kellen Reinsch and Jacob Swartzendruber.
"We have been remarkably consistent," Rotter said. "They give us everything they have. They give us everthing...everything every time they get on the field."
And the final score coach?
"I thought they may try to shorten the game and we would have to make the most of each possession," Rotter said. "They were up so tight on our receivers daring us to run—so we did. I didn't think we'd score 58...but our defense played awfully well, too."