FC Competes At Yowell Classic
Details

Published on Tuesday, 26 April 2016 18:13
Written by thenebraskasigna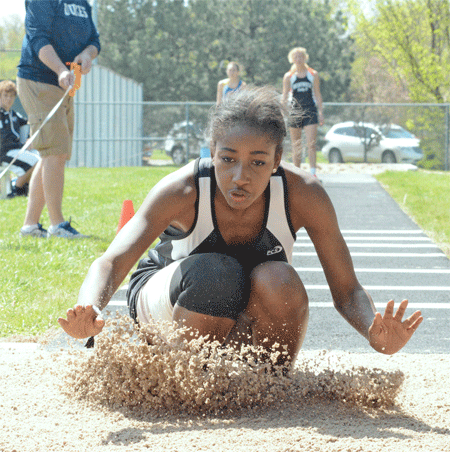 The Fillmore Central boys and girls both landed in sixth place in the team standings at the talent-filled Yowell Track Classic on Saturday. Class B powerhouse Waverly won both the boys and girls' team championships on April 23 in York. The York girls were runners-up and the Seward girls took third. The Duke boys were runners-up, while Beatrice took third at the 8-team Class B-laden meet. Also competing were Crete, Fairbury and Norris.
Top efforts from the Panther girls on Saturday were turned in by Jamey Broman, fourth in the 200-meter dash in 26.2 seconds; Grace Jacobson, sixth in the 1,600-meter run, 6:01.8; Sophia Frook, third in the high jump, 4-feet, 8-inches; Cori Knapp, third in the pole vault, 9-0; Broman, third in the long jump, 16-.5; Emileigh Kennel, second in the triple jump, 34-9.5; and McKenzie Scheil, third in the shot put, 37-4.5; and sixth in the discus, 106-feet.
The Panther girls 400-meter relay squad of Avis Koca, Knapp, Vicki Elznic and Ines Ortea placed sixth in York, 57.71; and the FC girls 1,600-meter relay team of Kennel, Ortea, Haley Hiatt and Jacobson placed sixth, 4:47.44.
"In a Class B meet that featured quality athletes in every event, the FC girls battled windy condition and performed well," Panther girls coach Colby Smith said. "I felt for the second meet in the same week, the girls gave it all they had, but fatigue showed in a lot of athletes. Two meets in five days is tough. Emileigh Kennel (second, triple jump), Jamey Broman (fourth-200, third long jump) and McKenzie Scheil (third shot, sixth discus) helped lead the Panthers."
Medal-winning efforts for the FC boys in York were turned in by Josh Taylor, fifth 200-meter dash, 23 seconds; Leyton Hopken, fourth 800-meter run, 2:13.77; Hopken, fourth high jump, 6-0; Nate Rasmussen, third long jump, 20-2.5; and Aaron Poppert, fourth triple jump, 40-6.
All three Panther boys' relays earned a medal on Saturday. The 400-meter relay squad of Rasmussen, Heath Boman, Christian Lovan and Taylor placed third, 45.78 seconds. The 1,600-meter relay team of Ethan DeLong, Poppert, Kole Karcher and Hopken placed fourth with a time of 3:49.87. The 3,200-meter relay squad of Noah Temme, DeLong, Chandler Schelkopf and Hopken earned runner-up honors in York with a time of 8:55.66.
"This was a tough day with mostly Class B teams," Panther boys track coach Adam Verhage said. "The weather was warm but very windy—so that may have had an effect on some of the times. I am proud of the efforts of all the boys. This week, we have a triangular at Adams Central and Conference on Saturday at Heartland (Henderson). I would like the boys to get a little tune-up on Tuesday and be at their best on Saturday."