E-M At Own Invite
Details

Published on Tuesday, 26 April 2016 18:11
Written by thenebraskasigna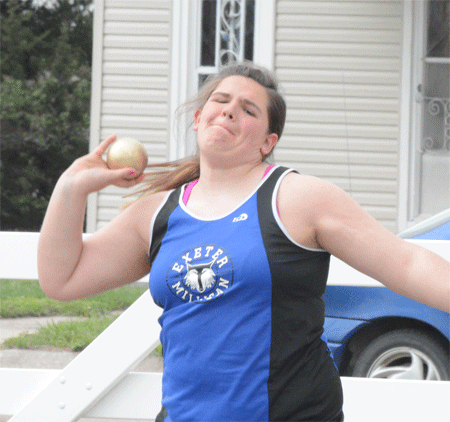 The Exeter-Milligan boys were a solid second in the team standings at the 2016 E-M Track Invite, while the Timberwolf girls landed in sixth place at the seven team invite held in McCool Junction on April 19.
Trevor Luzum earned two gold medals and Trystan Brandt took home three gold medals last Tuesday. Luzum took top honors in the 110-meter high hurdles winning the event in 16 seconds. Luzum was also golden in the 300-meter hurdles in 42.84 seconds. Brandt took first place in the long jump with a winning leap of 19-feet, 1.75-inches. Brandt was also champion in the triple jump with a winning effort of 41-8.25. Brandt joined up with Eric Olsen, Jack Dinneen and Sam Zeleny to win the 1,600-meter relay in 3:44.33.
Luzum also placed second in both the high jump (5-9) and the triple jump (39-4.5). Brandt was sixth in the high jump (5-1). Additional medal earners for the E-M boys were Olsen, fifth 100-meter dash; Elliot Erdkamp and Peyton Brandt, fifth and sixth 110-meter hurdles; Mitchell Manning and Dinneen, fourth and sixth 1,600 meter run; Manning, third 3,200-meter run; 3,200-meter relay of Joey Bartu, Colton Bossaller, Manning and Giovanni Tadini, fifth; 400-meter relay of Bossaller, Zeleny, Erdkamp and Cameron White, second; White, sixth place in both the shot put and discus; Dinneen, second pole vault, 11-9; Olsen, sixth, triple jump; Zeleny, second 800-meter run (2:11) and fourth 400-meter run and Olsen, fifth, 200-meter dash.
Kate Jansky earned three individual medals. Jansky rolled to victory in the 3,200-meter run in 13:12. Jansky also took third in the 1,600-meter run (5:58.2) and fourth in the 800-meter run (2:38.29).
Tara Mueller placed third in the shot put in McCool Junction. Hannah Beethe placed fifth in both the 100-meter hurdles and the high jump. Hailey Luzum was third in the long jump.
The E-M girls 1,600-meter relay was third (4:39.75) in McCool Junction on April 19. Both the 400-meter (57.25) and 3,200-meter relays (14:11) placed fourth.