16-2 FC In SNC Title Contest
Details

Published on Tuesday, 09 February 2016 16:17
Written by thenebraskasigna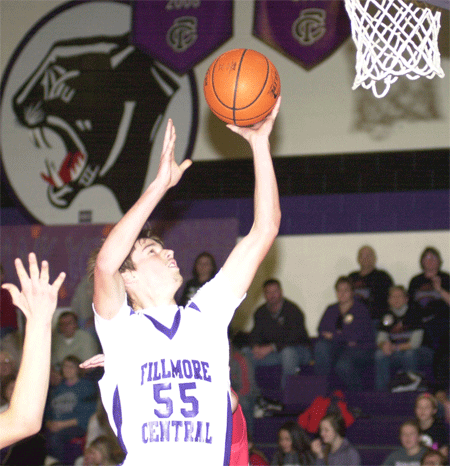 For the first time in over a decade, the Fillmore Central boys basketball team finds itself in the finals of the Southern Nebraska Conference (SNC) Basketball Tournament. The 16-2 Panthers squared off against Class C-1 Milford (15-3) on Monday, February 8, at the Centennial High School.
An appearance in the finals in Utica represents quite a rise for the FC boys basketball program. The Panthers were just 3-20 three seasons ago. In 2014, FC finished 8-14 and last year, the Panthers were 11-12. This season will easily be the best campaign of any FC boys basketball team.
To get to the final, the Panthers raced past Superior 71-38 on Friday, February 5, in Geneva to start SNC play. FC led the contest throughout and its press was too much for the Wildcat ball handlers to endure. Panther coach Jim Rose substituted liberally in the game and every player on the FC bench saw action.
On Saturday, the Panthers surged past Sutton 54-39 in its SNC semi-final match-up in Centennial. Upset-minded Sutton (9-8) led the February 6 contest in Utica 13-9 after one quarter. FC responded with a 19-9 second-quarter advantage en route to a 28-22 lead at halftime. The Panthers continued to add to their lead in the second half (11-7 third quarter and 15-10 in fourth period) for the 15-point win.
FC's all-time leading scorer Leyton tossed in 19 points to lead all scorers on Saturday. Also, during the win, the Panther senior scored his 1,000th career point for FC. Garrett Whitley canned three 3-pointers en route to a 13-point performance.
Adam Hoarty added eight points in the victory. Both Kole Karcher and Tanner Ourada scored four points for the winners. Nate Rasmussen, Noah Temme and Matt Hogue all added two points for the Panthers against Sutton.
After the SNC final and another two weeks of play, the Panthers will be the top seed in the C2-7 Sub-district in Fairbury. Currently, FC would play the Superior/Thayer Central winner. Sutton and Sandy Creek should battle on the other side of the bracket. Hastings St. Cecilia looms the danger on the other side of the District bracket.